,
The real estate market has been very hot this summer! July was a super busy month for our local real estate market, as a competitive market led to huge price gains!
There were 734 residential homes sold through the Multiple Listing System (MLS® System) of the Kitchener-Waterloo Association of REALTORS® in July, an increase of 25.7 per cent compared to the same month last year, and well above the previous ten-year average for July of 531.
The rate of home sales in July resembled the kind of month we would normally see in May-we suspect that this is due to the pent up demand that built, as we moved into Stage 3 of reopening mid-July. Total residential sales in July included 464 detached homes (up 39.3 per cent from July 2019), and 65 condominium apartments (up 3.2 per cent). Sales also included 153 townhouses (up 4.8 per cent) and 52 semi-detached homes (up 23.8 per cent).
The average sale price of all residential properties sold in July increased 22.8 per cent to $639,814 compared to the same month last year, while detached homes sold for an average price of $745,149 an increase of 21.4 per cent. During this same period, the average sale price for an apartment-style condominium was $392,770 for an increase of 15.2 per cent. Townhomes and semis sold for an average of $465,756 (up 12.8 per cent) and $522,872 (up 20.4 per cent) respectively.
If you have any questions about the real estate market, please let us know. We would be happy to help.
Market Report:
There's a lot to say about the current supply and demand for real estate locally. Here's Drew's report on how the numbers looked last month: https://elitere.ca/kitchener-waterloo-real-estate-market-report-july2020/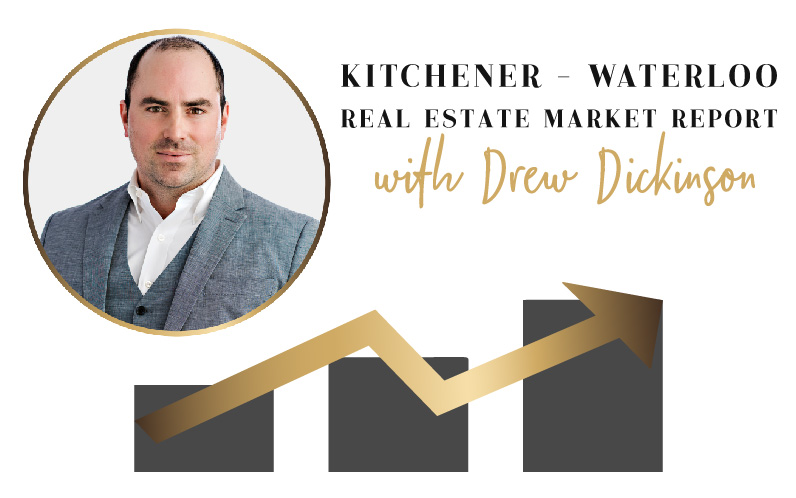 Featured Listings:
Click here to see all of our fantastic listings and their virtual tours.
https://elitere.ca/team-listings/
Staging a Kitchen that Wows Buyers
If you haven't heard of "staging", it's a fairly straightforward concept. It simply involves cleaning, organizing and preparing your home in such a way as to make it look its best to potential buyers.
One of the most difficult rooms to stage is the kitchen, because it's one of the most used. You can't just set it up to look nice for a viewing and then never go back in! Yet, an effectively staged kitchen can help sell your home, because it's the room that buyers often scrutinize and remember the most.
Here are some basic kitchen staging tips:
Be relentless when decluttering your kitchen. Stow or get rid of any unnecessary items.
Clear the countertops. Leave no more than two appliances in view. This will give the impression that there's a lot of counter space available.
Make sure the sink shines. If regular cleaners don't work, there are a number of specialty products available for cleaning sinks of all kinds, including stainless steel.
Consider making upgrades. You could do something as simple as replacing cabinetry hardware, or go as far as installing a new countertop.
Paint or stain cabinetry. One of the most affordable and impactful improvements you can make to the kitchen is painting. A new coat of paint or other finish can make older, worn cabinets look like new.
Add some fresh flowers in a vase. Flowers brighten up any room, especially the kitchen.
Need more tips on making your home show well, so it sells faster and for the price you want? Call today.
Cheap Ways to Improve Curb Appeal
Let's face it. If you're selling your home, you probably don't want to spend the time or money on a complete landscaping project. Luckily, you probably don't need to. There are a number of affordable ways to improve curb appeal and impress buyers who drive up to your home.
You can make a big impact by creating a more welcoming entrance. For example, paint the front door and frame, and place potted plants on either side.
You can also significantly improve your curb appeal by not only mowing the lawn, but also pruning trees and shrubs.
Use a power washer to clean the walkways and driveway. A good cleaning can make them look almost new.
And, don't forget the front windows. Make sure window coverings look just as good from the outside as they do inside.
Give Outdoor Furniture a Facelift
As the summer stretches on, and your patio furnishings start to show the signs of use, you may want to try these simple ways of restoring them to their original lustre.
Before trying any of these techniques, always test in an inconspicuous area first.
For vinyl cushions and fabrics without specific instructions for upkeep, try a mixture of water and mild detergent with an "oxicleansing" additive for stains. Avoid chlorine bleach that can corrode stitching and cause discolouration. Rinse thoroughly and dry without direct sunlight.
Furniture frames require specific care, depending on the material. Wicker should be vacuumed and/or brushed before a gentle washing and rinsing with a garden hose (not a power washer). Aluminum frames will keep their appearance longer if you apply and buff a coating of car wax after wiping clean and drying. Natural woods fare well when scrubbed with commercial oil soap (not detergent), and can retain their integrity longer with a weather-resistant stain or urethane treatment. To help your outdoor furniture last from season to season, invest in weather-resistant slip covers.
"It's not the will to win that matters-everyone has that. It's the will to prepare to win that matters."
Paul "Bear" Bryant
"If people knew how hard I had to work to gain my mastery, it wouldn't seem wonderful at all."
Michelangelo
"When your values are clear to you, making decisions becomes easier."
Roy E. Disney
Not intended to solicit buyers or sellers currently under contract.
IXACT Contact Solutions Inc.
If you do not wish to receive future emails, please click unsubscribe.

RE/MAX TWIN CITY REALTY INC. , 83 Erb St W, Waterloo, Ontario N2L 6C2 Canada

Trusted Email Powered by IXACT Contact®