,
We hope your December is off to a great start!
Well, we did it again! Last month was another record-breaking month for home sales in Waterloo Region. In fact, November was the fifth consecutive month of record home sales in the Kitchener-Waterloo area.
Prices have continued to soar as buyers across all price points compete for homes. The number of homes going up for sale cannot keep up with the current demand. We are well beyond any pent-up demand from the first lockdown, and we are now dealing with demand for our community as an attractive place to put down roots. The COVID-19 pandemic is only further fueling the already hot market and elevating Waterloo Region as a desirable place to own a home.
Total residential sales in November included 341 detached homes (up 28.6 per cent from November 2019), and 82 condominium apartments (up 60.7 per cent). Sales also included 112 townhouses (up 53.4 per cent) and 40 semi-detached homes (up 5.2 per cent).
The average sale price of all residential properties sold in November increased 13 per cent to $637,336 compared to the same month last year, while detached homes sold for an average price of $753,641 an increase of 14.4 per cent. During this same period, the average sale price for an apartment-style condominium was $400,882 for an increase of 12 per cent. Townhomes and semis sold for an average of $482,901 (up 8.6 per cent) and $562,988 (up 30.4 per cent) respectively.
If you are considering selling in the new year, or if you have any questions about the real estate market, please let us know.
We would love to hear from you!
EXCLUSIVE OPPORTUNITIES:
We have been presented with the opportunity to sell a select few units at two very desirable condo developments in Kitchener-Waterloo; Charlie West in Downtown Kitchener, by Momentum Developments, and Blackstone Modern Condominiums in North Waterloo, by Urban Legend Developments. For more details, floorplans, and pricing visit: https://elitere.ca/exclusive-listings/

FEATURED LISTINGS:
Click here to see all of our fantastic listings and their virtual tours.
https://elitere.ca/team-listings/
MARKET REPORT:
Take a look at Drew's latest Real Estate Market Report for Kitchener-Waterloo: https://elitere.ca/kitchener-waterloo-real-estate-market-report-november-2020/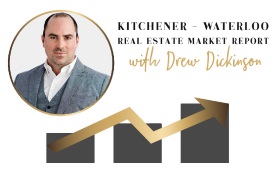 Avoiding the #1 Cause of Seller Stress
Do you know what causes the most common source of stress when selling your home? Is it scheduling buyer viewings? Is it the length of time it takes for your property to sell? Is it an offer that falls through?
Those things can, indeed, cause some worry! But, the number one source of stress is actually simple to avoid. It's not understanding the process.
Even if you're no stranger to moving, you should review the process involved in selling your current home before you list it. If you don't, you might end up exposing yourself to anxiety that could have been easily avoided.
Say, for example, you're concerned that your home has been listed for too long. It's been a week and no good offers have come in. Well, if you knew, in advance, how long a home like yours typically takes to sell, then you probably would know not to worry.
It's important that you start the process by understanding what to expect. What happens when your home is first listed? How are buyers scheduled to see your property? What happens when an offer comes in?
That's why we will always review the selling process before you list and make sure all your questions are answered.
Window Treatment Ideas that Help Sell Your Home
If you're selling your home, your window treatments – curtains, blinds, etc. – will often be included with the property. They are an important selling feature. So, when a prospective buyer views your home, looks at the front window with its gorgeous draperies, and says, "Wow!", that's a good thing.
If you're thinking of upgrading your window treatments in preparation for selling, here are a few ideas:
Removing an inner curtain, for example, can dramatically lighten up the window as well as the entire room.
Window coverings may seem minor when preparing your home for sale, but they make a difference in how your home looks overall.
Beware of "The Dip" When Setting Goals
If you've ever run a marathon, or watched one, you've probably noticed that no one quits at the beginning. They don't quit near the end either. If anything, they run faster! So, at what point are people most likely to drop out?
The middle.
The middle is the toughest part of any marathon or, indeed, anything major you want to accomplish. In his book, The Dip, author Seth Godin states that the middle is the point in any project or goal where failure is most likely.
Have you set a new year's goal? If so, beware of the dip!
How do you do that? Prepare for it.
If you want to lose weight, for example, you'll be most enthusiastic, and get the most encouragement from friends and family in January. But, what happens in March? At that point, the initial burst of motivation and support will have likely waned. That's when it becomes tough to keep going.
There are several things you can do to get through the dip. One is to celebrate milestones. When you're halfway to your goal, tell your friends and family. Get some high fives! You can also remind yourself that your goal is important to you and renew your determination to achieve it.
So don't give up in the middle. Keep pushing through. After all, when the end is in sight, it will be a wonderful sight to behold.
"Failure doesn't come from not reaching your goal, but from having no goal to reach."
Benjamin Mays
"You have to put in many, many, many tiny efforts that nobody sees or appreciates before you achieve anything worthwhile."
Brian Tracy
"Never let your memories be greater than your dreams."
Doug Ivester
Not intended to solicit buyers or sellers currently under contract.
IXACT Contact Solutions Inc.
If you do not wish to receive future emails, please click unsubscribe.

RE/MAX TWIN CITY REALTY INC. , 83 Erb St W, Waterloo, Ontario N2L 6C2 Canada

Trusted Email Powered by IXACT Contact®